Most of Ex d type of glands are minimum dual certified. Certainly not the same case if you do installation of it in a possible gas or dust hazardous environment.
IEC 60079-14 is very straight forward here.
In case of gas hazardous environment installation few points need to be followed:
"The cable entry system shall comply with one of the following:
a) Cable glands sealed with setting compound (barrier cable glands) in compliance with IEC 60079-1 and certified as equipment;
b) Cables and glands meeting all of the following:
– cable glands comply with IEC 60079-1 and are certified as equipment
– cables used comply with 9.3.2(a)
– the connected cable is at least 3 m in length;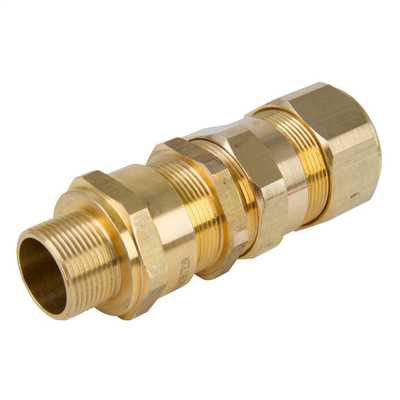 c) indirect cable entry using combination of flameproof enclosure with a bushing and increased safety terminal box;
d) mineral-insulated metal-sheathed cable with or without plastic outer covering with appropriate flameproof cable gland complying with IEC 60079-1;
e) flameproof sealing device (for example a sealing chamber) specified in the equipment documentation or complying with IEC 60079-1 and employing a cable gland appropriate to the cables used. The sealing device shall incorporate compound or other appropriate seals which permit stopping around individual cores. The sealing device shall be fitted at the point of entry of cables to the equipment.
NOTE 1 The minimum length of cable is to minimize the potential for flame transmission through the cable (see also Annex E);
NOTE 2 If the cable gland and actual cable are certified as a part of the equipment (enclosures) then compliance to 10.6.2 is not necessary."
NOTE to here: if you do ANNEX E, compliance to iso 17025 shall be verified.
What about dust hazardous environment? Do you need to follow all above?
"Ex "t" glands, adapters or blanking elements, having parallel threads may be fitted with a sealing washer between the entry device and the "t" enclosure.
If no washer is used the thread engagement shall be at least five full threads. Tapered threaded joints without an additional seal or gasket shall engage no less than 3½ threads."

This certainly gives a good option to save money and time accordingly and still maintain the quality of hazardous Ex area compliance.
Keep up good work!